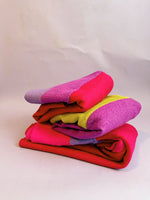 Remnant Colour Block Nati Winter Collection
Yay! These one of a kind colour blocked Nati's were made using the remnant "scraps" from the solid Nati collection! Each one unique to the other and made with love.
Measurements are 62 inches across the waist and 42 inches from nape to hem. The Nati's are meant to be worn in a baggy way or even as a jacket! Have fun with layering your favourite turtle neck underneath and a pair of comfy pants, throw a belt or Fanny pack on, the style choice is up to you :)
The colour block Nati's do not come with a zipper, you can simply throw them right on and as always, have the deep cozy pockets for snacks, cold fingers and treasures.
If the Nati you're looking for has sold out, don't worry! I will be making more as the scraps allow so keep your eyes out or feel free to send me an email :)
Sold Out
Sold Out
Sold Out
Sold Out
Sold Out
Sold Out
Sold Out
Sold Out
Sold Out
Sold Out
Sold Out