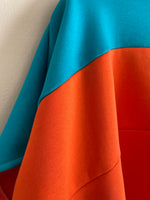 Sweatsuit Nati Preorder- Pumpkin + Turquoise
Our favourite body blanket dress now finally available in a super comfy sweatsuit jogging fleece fabric! No more worry about sensory issues with wool, this is a gorgeous cotton and fleece blend in eye popping colour blocks for some great cold weather colour therapy, chilling at home or adventuring in the outdoors! Style + comfort + oversize everything :)
This fun orange and turquoise combo come in two opposite colour styles!
The base one sized sizing is similar to the OG Nati:
Nape to Hem: around 40 inches
Shoulder to Shoulder: 42 inches
Waistline: 40 inches
Arm length: around 12 inches
As these beauties are made to order, please let me know if you have any special measurements to be accommodated and we can take it from there!
As it is just a small team of me and me at the moment, preorder completion, from initial order and confirmation of measurements, will take anywhere to upwards of 2 weeks to get to produce and ship out.
Thank you for your patience with handmade, small batch, locally made items, I appreciate you so much! 
Any other questions?? Please reach out to heyhellodarlingco@gmail.com
Sorry, there are no products matching your search