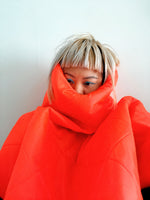 Winter Hues Mini Drop Jan 2023
Brighten up those winter blues with fun and striking colours! This mini drop includes the preorder for the highlighter orange quilted crop and a handful of one of a kind remnant boiled wool and melton wool crop tops.
Due to the scrap/remnant nature, each crop top is a unique sizing which will be included in their individual descriptions. 


The Highlighter Orange/Black Quilted Crop Preorder can be also customized if you are needing it to be slightly smaller or longer, let me know! Please note there will be a small extra charge for customizations depending on what the request requires :)